ABOUT
The Redress Forum 2014 was a one and a half day seminar in Hong Kong that asked 'What is the future of the fashion industry?'
The Redress Forum explored the challenges and opportunities faced by Asian and European designers, manufacturers and retailers as they strive to embrace more environmentally sustainable practices to discover the new drivers determining the road ahead.
DAY 1: THE REDRESS FORUM 2014: DESIGNER CHALLENGE WITH MIELE
The Redress Forum: Designer Challenge with Miele was a seven-hour educational workshop and design challenge for 19 fashion designers that was collaboratively held by Redress, Miele and Textile Environmental Design (TED), with overarching support by Create Hong Kong. The workshop explored how fashion designers are able to influence a garments sustainability, usability and recyclability. The workshop took the eight The EcoChic Design Award 2013 Finalists, a group of 10 Hong Kong designers and a small group of media representatives on an educational experience in a secondhand clothing recycling warehouse. This was followed by two separate workshop sessions that challenged the designers to re-think fashion and to learn new design techniques that give discarded clothes a new life so as to keep them in the fashion loop.
DESIGNER CHALLENGE
The eight Finalists had to demonstrate their newly gained knowledge from earlier in the workshop to create one reconstructed dress each in two hours. This was set as a design challenge and competition. Racing against the clock, the finalists had to use garments sourced in the secondhand clothes recycling warehouse to design and mock-up a dress on mannequins. The designs had a low consumer use impact and a longer life in the fashion loop based on the garment's sustainability, usability and recyclability. Catherine Hudson was awarded the winner of the challenge and received an educational price from Miele to further enhance her career in sustainable fashion design.
TED WORKSHOP
Designers first did a burn test to learn about fibre identification using a disposal lighter, so they can make informed choices when selecting materials, which ultimately impact the consumer use phase. As a warm up session the 10 designers first worked in a whole group to sample a print design on a jacket found at secondhand clothes recycling warehouse. Then they 'broke down' a polyester shirt, using quick unpicks, to create a complete shirt with all its parts laid out on the floor.
Then the 10 designers worked in pairs to create a print design for the piece of shirt that they choose to work with – a sleeve, the back, the collar, etc. A selection of techniques and 2-d printing items were supplied, along with black paper to help with this. At the end of the workshop the group had created one new shirt together, piece by piece. Professor Earley will stitch together the shirt and later exhibit it as part of the Mistra Future Fashion project exhibition (online from June 2014). The 10 designers will be named as the co-creators of this up cycled piece.
Each of the 10 designers left with a kit to make their own up-cycled shirt: the polyester shirt they found at the secondhand clothes recycling warehouse, a supply of transfer paper to create their own up cycled shirt, the burn test guide and kit, and the TFRC book, Material Futures. The designers will be invited to submit their own creations to TED, for the Open Gallery part of the Mistra project exhibition.
GALLERY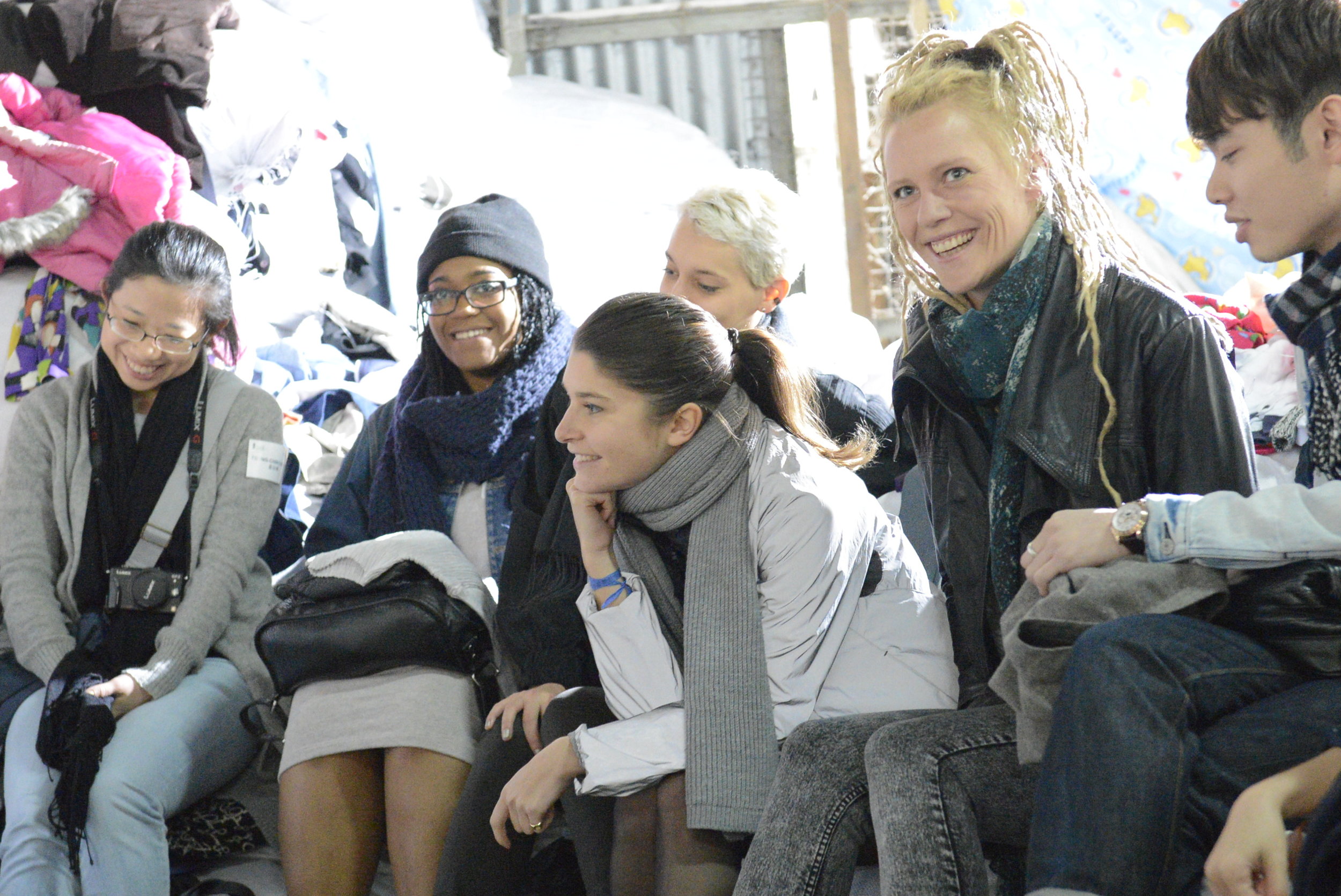 DAY 2: THE REDRESS FORUM 2014: SEMINAR
Day two was a full-day seminar of panel discussions and workshops and took place during Hong Kong Fashion Week.
The Redress Forum was organised by Redress, with its major sponsor being Create Hong Kong, in collaboration with Hong Kong Trade and Development Council (HKTDC).
Download the executive summary here.
SPEAKER HIGHLIGHTS
Orsola de Castro, Co-founder, From Somewhere, Co-founder and Curator, Estethica
Hon Felix Chung Kwok Pan, Member of Legislative Council (Textiles and Garment Functional Constituency)
Charles Dickinson, Head of Global Quality Management and Sustainability, Esprit
Rebecca Earley, Professor in Sustainable Textile and Fashion Design, Textiles Environment Design at Chelsea College of Art and Design, University of the Arts London
Ashley Hegland, Director Sustainability Practice, Edelman
Edwin Keh, CEO, The Hong Kong Research Institute of Textiles and Apparel
Chelsia Lau, Chief Designer, Strategic Concepts Group, Ford Motor Company
Kate Lin, Campaigner, Greenpeace
Anderson Lee, Vice Chairman, Sustainable Fashion Business Consortium (SFBC)
Elizabeth Mclafferty, Head of Department, Department of Fashion and Image Design, The Hong Kong Design Institute
Tracy Pang, Principal Consultant, Carbon Reset
Jeremy Prepscius, Vice President Asia-Pacific, BSR
Esben Rahbek Gjerdrum Pedersen, Professor, Department of Intercultural Communication and Management, Director, Centre for Corporate Social Responsibility, Copenhagen Business School
Debra Tan, Director, China Water Risk
Clara Vuletich, PhD Fellow, Textiles Environment Design at Chelsea College of Art and Design, University of the Arts London
Pat-Nie Woo, Director, Central Textiles (Hong Kong) Ltd.
GALLERY